Membership & Benefits
Membership is made up of Connecticut Montessori schools. Each member school is represented by its Head of School. The criterion for membership in MSC is a school's current/active membership/affiliation with the Association Montessori International (AMI-USA) or American Montessori Society (AMS), or a school actively pursuing the process of obtaining such membership or affiliation.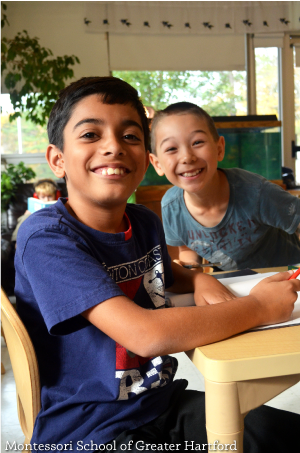 Membership of MSC entitles your school to:
Montessori Advocacy participation in Connecticut and nationwide
Networking opportunities among Montessori (independent, public and proprietary) Heads of School
Participation in MSC's annual meetings and Strategic Plan Committees
Professional development for faculty and administration
Participation in planning and supporting the annual conference event
Reduced admission fees to MSC's annual conference
Annual Heads of School Workshop & Retreat
Posting on the MSC new web site
Opportunity to link Open Houses & Special Events (open to general public) and Employment information
Non-discrimination statement posted with school listings
Access to resource material
Annual membership is voluntary; fees are based on student enrollment. If you wish to learn more about membership or place an application click here.
School Accreditation
Along with membership/affiliation in AMI or AMS, Independent MSC schools are also accredited by one or more State Department of Education approved organization, such as the Connecticut Association of Independent Schools (CAIS) or The New England Association of Schools and Colleges (NEASC).
Additionally some MSC schools may also seek The National Association for the Education of Young Children (NAEYC) recognition for their toddler and pre-school programs.
School accreditation is a commitment by a school to follow the specific pedagogy and quality program standards established by the organization granting certification.
The Culture of our Schools
Montessori schools in Connecticut are geographically dispersed; each one has a unique culture that is only truly revealed when you visit the school. Any of our Montessori schools you wish to visit will encourage you to observe in a classroom. In this way you can truly experience the life of the classroom community.
Call our member schools to make an appointment to observe – you're in for a treat!
MSC member schools listed are committed to a policy of Equal Employment Opportunity and will not discriminate against an applicant or employee on the basis of age, gender, sexual orientation, race, color, creed, religions, ethnicity, nationality, alien status or citizenship, marital status, military status, or any other legally recognized protected basis under federal, state, or local laws, regulations, or ordinances.
"The essential thing is to arouse such an interest that it engages the child's whole personality."

– Maria Montessori –